Chrys Mitchell: People and Places
Chrys is very skillful songwriter and guitar player whose trademark is his distinctive guitar style—an intricate blend of strumming and finger picking. His sensitive compositions often come across as understated and only a careful listener (or a bass player) will realize their complexities. This wistful folk album was recorded over a period of five months, with occasional breaks to allow the artist to grow back the fingernails on his picking hand, damaged by his frequent rock climbing. Track 13 was recorded "live" (simultaneous recording of guitar, vocals, and backing vocals—with the guitar recorded direct on one track and the vocals recorded through dynamic microphones). On all other selections a single guitar part was recorded simultaneously on two tracks (one direct, the other one through an AKG 3000 condenser pointing at the neck). I added the bass, recorded direct, and the main vocals, recorded with a Rode NT 1 condenser through either the Voicemaster or the Drawmer preamps. Guest musicians added backup vocals and harmonica on some of the songs later in the project. We had to redo some of the tracks, because they were recorded in different formats on the Roland VS 1680. Since the unit does not have a conversion function, and we do not have another outboard digital recorder, all songs had to be tracked in the same format in order to have them all on the same CD. Most songs are take one or two, both in terms of guitar work and vocals. The mixdown went through three consecutive stages, as we checked the sound on several different systems and adjusted the tracks as needed. A fourth stage would have been ideal, but deadlines were pressing so we stopped a little shrt of what I intended to obtain mix-wise. The CD was duplicated through Oasis and is available by direct order.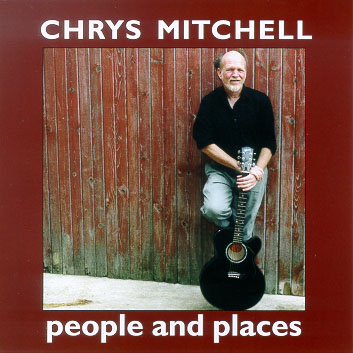 People and Places
The Winds of Dakota
Don't Put Your Faith in Me
Wapsipinicon
West of Ogallala
Raisin Bran
Fire in Your Eyes
Deedler's Walk (instr.)
Well, Well, Well
San Joaquin
I'll Regret This in the Morning
Leaves Upon the Wind
If Things Were Not Their Proper Size
New Sun Rising

Chrys Mitchell: guitar and vocals
Mircea Tomus: bass
Kimberli Lambert: backing vocals
J. Knight: harmonica
Sample the CD and order it!
All songs: Words and Music by Chrys Mitchell
Recorded and mastered by Mircea Tomus, Studio Point, Iowa City 2001.